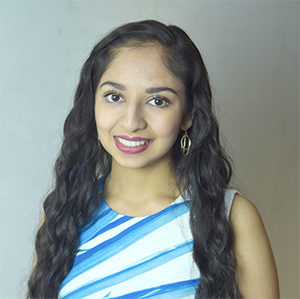 Anjali has been interested in science, technology, and their applications since a very young age. As an innately curious child and voracious reader, Anjali always looked for ways to take the facts she learned and use them to solve real-world problems. This quality lead to her founding a nonprofit called Empowered at the Catapult Ideas Entrepreneurship Incubator hosted at the Harvard University campus. The mission of Empowered is to train minority girl high schoolers in technological skills and pair these students with minority women entrepreneurs in their community. Together, these women and girls are able to form a close knit and trusting partnership that enables young women to develop life skills and relationships, while small business owners have a greater chance of success and reaching their potential. Anjali has interned at an impact investing firm called Access Ventures in order to further connect with businesses and youth in her Louisville community as well as learn more about microfinance. She is the Treasurer for her schools 150-member chapter of the Technology Student Association, a nationwide organization.
Anjali really enjoys working on solving real-world problems, Anjali has spent the last several months developing a novel arsenic sensor using IoT devices and software. Creating this device has allowed her to combine knowledge of programming, chemistry, engineering, and environmental science. She is on a school-district-wide board for organizing an Idea Festival where student speakers present their ideas on education, politics, and social change. Anjali is also on a city-wide board for Louisville's mayor's WE Day/Give a Day program, which promotes community service to all.
Anjali's interests extend far beyond science and technology; she has a deep love for literature, art, and history, and as the captain of her Quiz Bowl team, she has led her school to Nationals for three years in a row.